One of the things I love most about DVRT is the fact we get to connect with great coaches and industry professionals. Innovators, leaders, and those that are doing exciting things in fitness. As many of you may now, one of those coaches that have done so much is Strength Coach, Robert Dos Remedios (Coach Dos).
That's why I am excited to share with you an interview I did with Coach Dos where he breaks down some of the most important fitness training that you may have not thought about. From HIIT workouts to real world strength training there aren't many in fitness or performance training better than Coach Dos. That's why this interview will definitely get you thinking about how to achieve a level of fitness you may have not thought possible!
Josh Henkin: Coach Dos, can you tell us a bit about your athletic and coaching background?
Coach Dos: I started playing football in the 10th grade and immediately fell in love with the game. I was a pretty decent high school lineman and got a few Division II scholarship offers but really felt like I was just learning and that I could play Division I football. I made the decision to turn down the offers (much to the chagrin of my parents) and went to Glendale Community College. This was truly a life-changing decision for me. This is also where I fell in love with the Junior College system and how powerful it can be.
This is where I met the coaches who would serve as my very first mentors. These men were like my 2nd, 3rd, and 4th fathers. While playing there, I developed into one of the best / highest recruited offensive linemen in the country. I chose to play at the University of California, Berkeley (CAL) for both the level of play and academics. I had a great career at CAL and got to meet my strength & conditioning mentor Robin Pound there. Coach Pound taught me that strength and conditioning is both a science and an art. This truly intrigued me. When I graduated, I was offered a football graduate assistant position but I knew what I wanted to do. I wanted to go home and coach junior college football and become the best strength & conditioning coach in the world.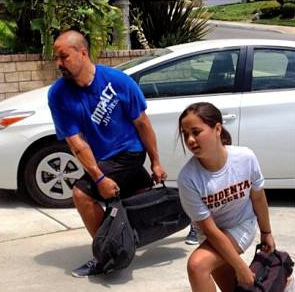 I volunteered at Glendale College and started its first comprehensive strength and conditioning program back in 1989. During this time, I started graduate school for my masters degree in Kinesiology (Biomechanics). I hoped to one day become a full-time junior college professor and coach. Jobs were scarce at the time and I did everything you could think of—personal training, substitute teaching, and even working as a physical therapy aide. I eventually got my teaching credentials. I taught middle school PE while still teaching and coaching part-time at Glendale College until taking a high school head football coaching/teaching job for 3 years. All the while I continued to try to change the game of performance training. In 1998 I got my dream job when I became the first full-time junior college professor and coach who was also a Strength & Conditioning Specialist.
During the interview for my current job here at the College of the Canyons, they asked, "What are your goals for this position?" I answered, that the College of the Canyons would become the model for collegiate strength and conditioning for ALL levels of competition. They gave me some funny looks, and even a chuckle or two. But fast forward to today—we have established ourselves as one of the premiere models of strength and conditioning in the world. We are visited by collegiate and professional conditioning coaches from all over the world. We are very proud of these accomplishments. I was the NSCA 2006 Collegiate S&C Coach of the Year, and this is the only time the award has been given to a junior college coach.
Josh Henkin: You are definitely a strength coach with a strong history in performance training. However, what I admire most about you is that you don't just stick to what you did "back in the day". Can you share how your philosophy or methods have evolved over the years?
Coach Dos: Oh man, as with most of us, the evolution has been pretty significant. I have seen just about everything, and we have played with just about every method, tool etc.
What we do today looks very different from what we were doing in the early 90's. It's not that what we did back then was 'bad', it's that we know so much more today.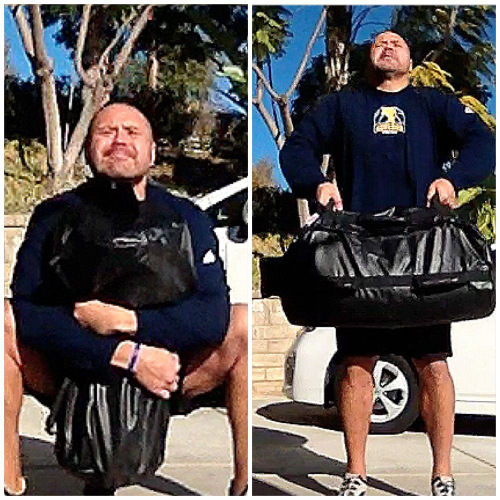 My philosophy has pretty much stayed the same—it's all about building work capacity, and everything after that is easy. But, how to go about building this work capacity has changed through the years.I tend to evolve more than most coaches simply because I take a 'no ego' approach to learning new things. Many people are reluctant to try new things if they seem strange, or if they may not have fun trying it for the first time. I'm the opposite, I will try anything you present to me (at least once). One of the first times I hung with you, Josh, you had me try to clean a 150lb Ultimate Sandbag—and I gave it a shot! It wasn't pretty, but why not?!
Our egos can really handcuff our progress at times, so my philosophy allows for trying everything that can potentially make my programs bigger.
Our evolution over the past decade or so has included tools such as Valslides, kettlebells, TRX, USB and more!
Josh Henkin: We call coaches who work with athletes primarily "strength and conditioning coaches". That name has always struck me as a bit odd. What are your feelings about the relationship of strength and conditioning? What does strength mean to you and your athletes?
Coach Dos: Well, I coach almost 300 kids per day so it is as much PSYCHOLOGY as it is strength and conditioning!
I think my job encompasses a lot of things. Of course it's about getting 'stronger', but that can't happen at the expense of getting slower, stiffer, or less athletic. I am not at all interested in giant squatters, deadlifters, or benchers. I want my kids to be STRONG in everything they do. This means barbells, dumbbells, kettlebells, TRX, bodyweight exercises, sleds, Ultimate Sandbags, etc. On top of that, I need them to be strong and powerful on every plane of movement both bilaterally and unilaterally. This is why our programs encompass so many tools and movements.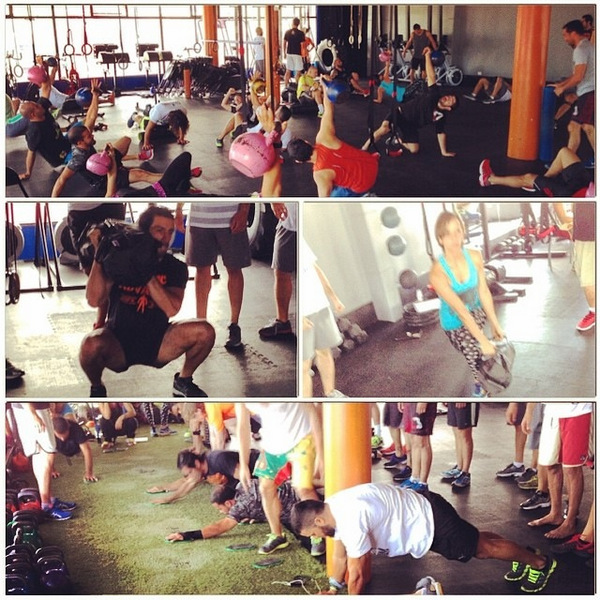 When it comes to conditioning, we hang our hats on this variable. I have always said that your CONDITIONING is the ONLY thing we have complete control over. We may have bigger, stronger, or faster teams from year to year but we will ALWAYS be the best conditioned team on the field, court etc. We utilize many metabolic protocols—density style circuits, complexes, Tabata variations, and above it all WE RUN. Our sports that involve running—football, soccer, basketball, volleyball—utilize specific sprint and agility intervals. We kick this component up in the pre-season as we get ready for competition. It's not fun but nothing worthwhile will be easy.
Josh Henkin: I had a great time talking with you and Wil Flemming for your excellent Performance Podcast. During the podcast you mentioned load doesn't always relate to performance strength. Can you elaborate? In your mind is there more than one form of "strength"?
Coach Dos: Of course! I hit on it a bit in the previous answer, and you and I have talked about this concept on numerous occasions. But, I definitely believe there are MANY forms of strength. To me a kid who can bench press 400lbs but can't do bodyweight chin-ups is not only unimpressive to me, he's most likely going to be a liability. The same can be said for an athlete who can front squat a ton, but once we work with unilateral movements like USB MAX Lunges, he or she is losing their balance all over the place. I need my kids to be strong with a variety of movements using many training tools. I also need for this strength and power to be repeatable—power endurance is vital for all of our athletes.
Josh Henkin: There is a popular saying in fitness, "train like an athlete." Do you think this is an appropriate statement? How could it be misinterpreted?
Coach Dos: I think a lot of great training tips and methods from how we train athletes can apply to the general population. Simple things like training full body movements rather than specific muscles, training on multiple planes, using primarily multi-joint exercises etc. are valid for general populations. This doesn't mean we need to train at the same intensities, loads, or velocities as athletes. I think CrossFit comes to mind—people think that is how athletes train, and it's simply not the case.
Josh Henkin: You have been one of our greatest supporters for DVRT. Why have you chosen to implement the DVRT system in your performance-based programs?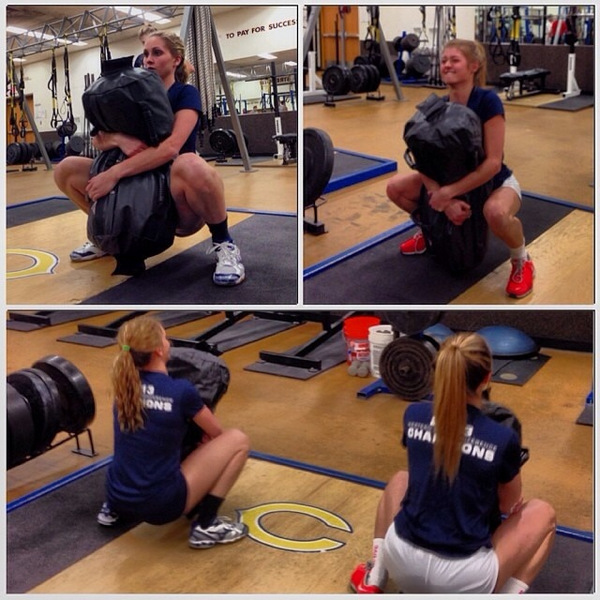 Coach Dos: I love the versatility of DVRT and the Ultimate Sandbag. We can load them with humbling loads when needed, and we can also unload them to put ourselves in positions using movements that we just can't train with traditional barbells. They're perfect for our metabolic protocols and awesome for circuits and complexes. But, don't just keep training heavily loaded USB cleans, snatches, front squats etc. I have said it over and over, but the USB rotational lunge COULD BE the single greatest exercise on the planet.Josh Henkin: People often get confused and think that DVRT Ultimate Sandbag Training is all about conditioning. Do you think it can build strength as well? How?
Coach Dos: Yes SIR! Anyone who thinks it can't build strength or power needs to load up 100+ lbs. in a burly USB and do some cleans, snatches, or better yet, give the USB clean and press test a try! Going a step further, it's not only important to have strength and power, it's also important to be able to sustain levels of power endurance with heavy loads. This is the nature of many sports and it's often neglected.
Josh Henkin: Coach thank you so much for your time and expertise! If people want to find out more about the amazing work you do, where can they get more information?
Coach Dos: Thanks Josh, like I have always said, you have been one of our biggest supporters and it's our pleasure to support you and all that you do. People can find me at www.coachdos.com where I have a great membership community. I also have a brand NEW certification, a program design course that will completely change how you train.
For a limited time if you purchase Coach Dos' program and send your receipt to info@ultimatesandbagtraining.com/dev you will also get our two NEW DVRT programs for FREE! Our DVRT Warrior HIIT program and DVRT for Strength & Size. 80 workouts and over 400 exercises, the perfect compliment to Coach Dos new innovative program!